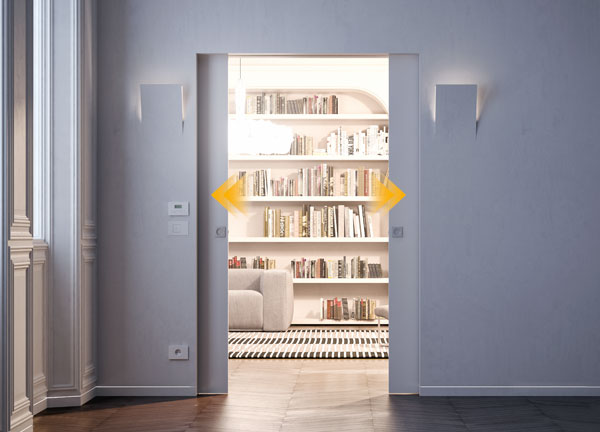 Double door co-ordination for Syntesis®
Applicable to ECLISSE Syntesis® Slide Double and ECLISSE Syntesis® Luce Double models, this accessory allows you to open and close the two doors simultaneously by moving only one door at a time.
This accessory greatly increases functionality, especially for wide passage sizes.
Thanks to the extractable track, this system can also be installed in an already existing ECLISSE pocket door.
Dimensions
It can be installed to the above models with Door Widths=24"+24" up to 42"+42".

Only for wooden doors.

To be used in conjunction with the ECLISSE BIAS®.

With 55+55lb door panels, ECLISSE BIAS® slows down the movement and closes the door panels. For doors with a weight up to 110+110 lbs, the device only slows down the movement.