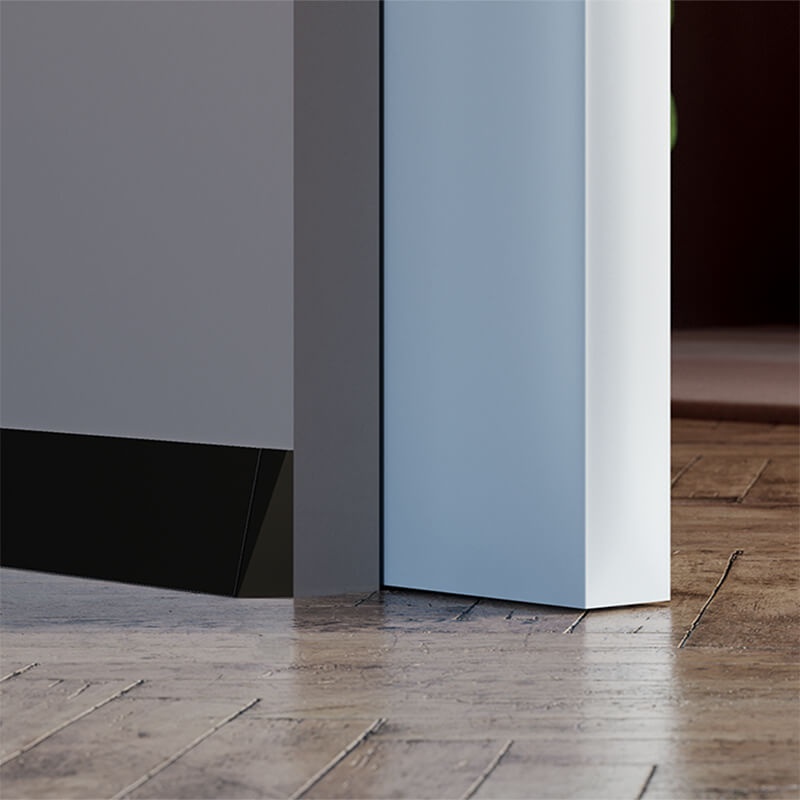 Delta
Inclined baseboard with polyhedral terminals
The inclined skirting board
A new baseboard geometry
The new ECLISSE skirting board owes its name to its very shape, a triangle, which in the Greek alphabet stands for the letter Delta, but also represents the mathematical symbol for variation, Δ. A symbolic name, since this skirting board changes in shape and, depending on how we look at it, in the play of light and perspective.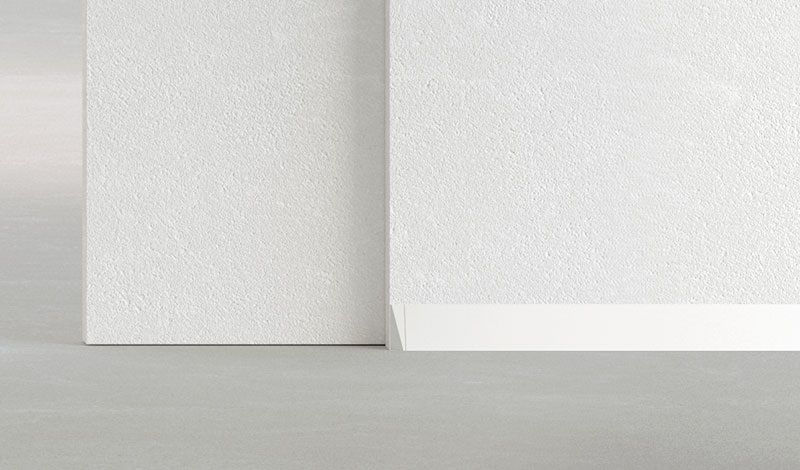 Front view
ECLISSE Delta runs along the wall with elegance and discretion. At first glance, you barely notice its unusual facet near the door.
Side view
From the side, the skirting board reveals its true identity and distinctive character: a slope that gives the room three-dimensionality, strength and character.
The terminal pieces take this concept further with their multifaceted shape.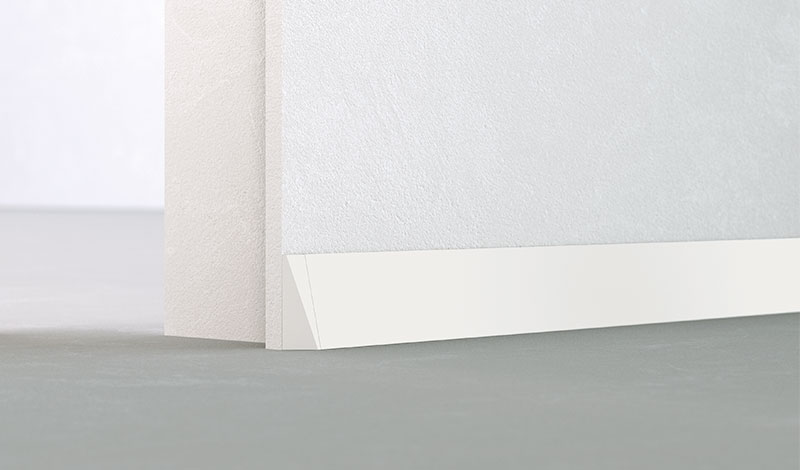 Available finishes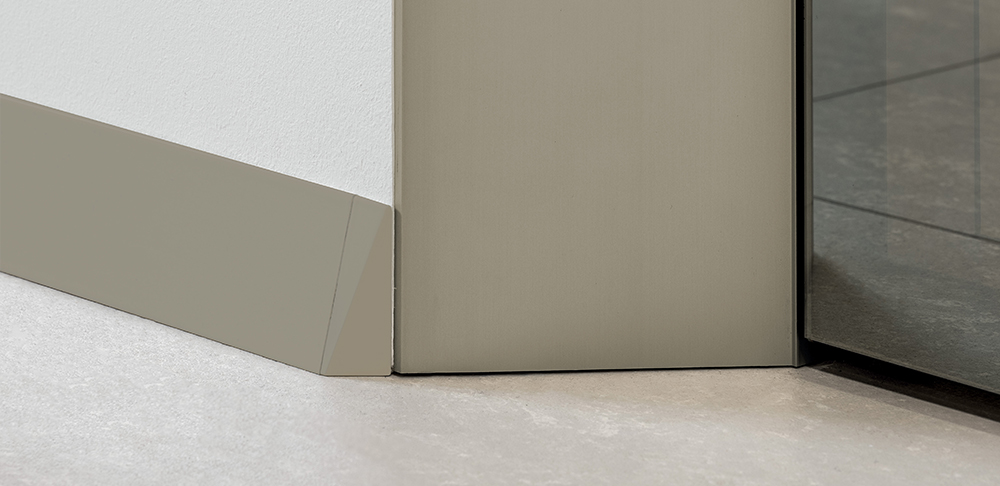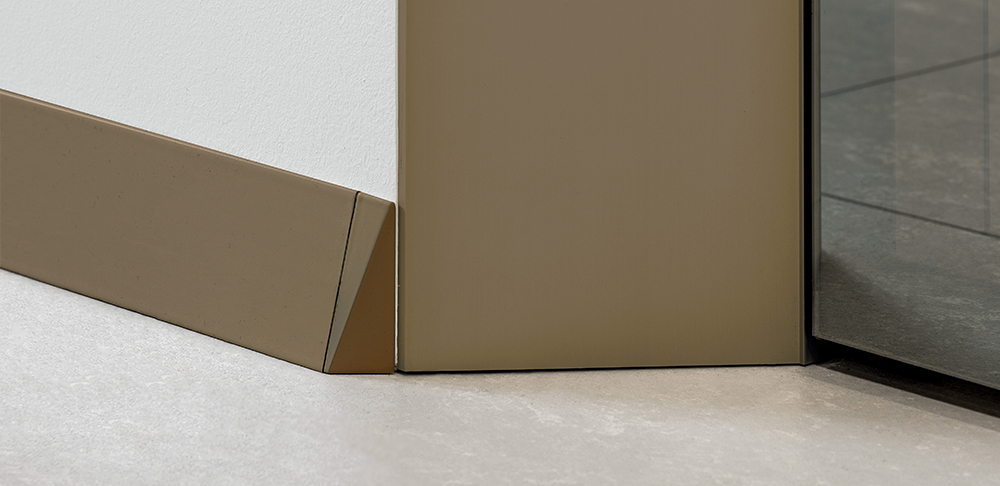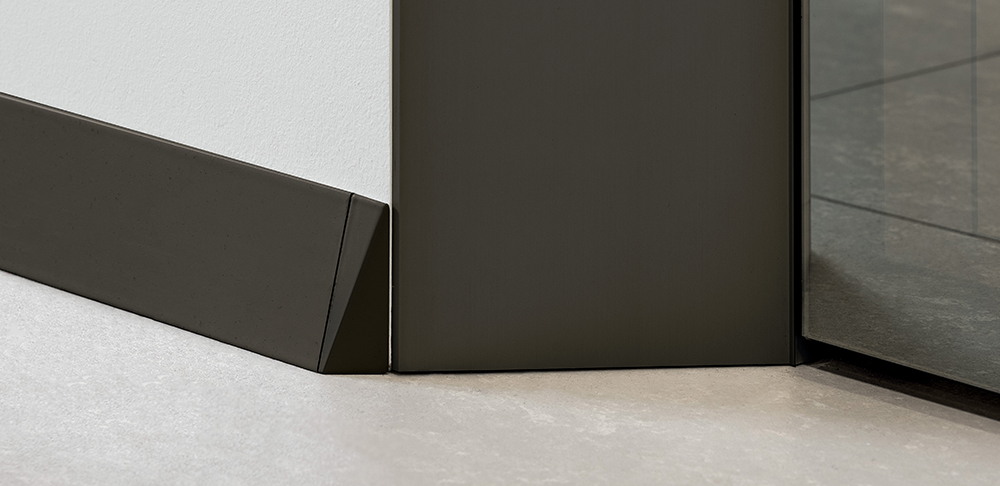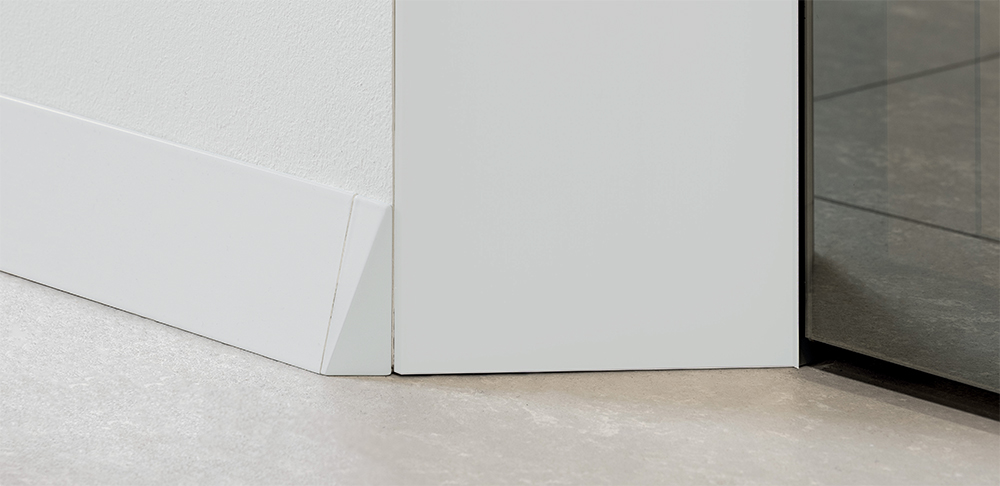 PRIMER-COATED
Ready to be painted
---
The combinations suggested by ECLISSE
ECLISSE Delta skirting board has a strong and innovative character, suitable for a modern and avant-garde style. In accordance with its personality, we recommend its application in combination with the products of the ECLISSE Syntesis Collection and the ECLISSE 40 Collection.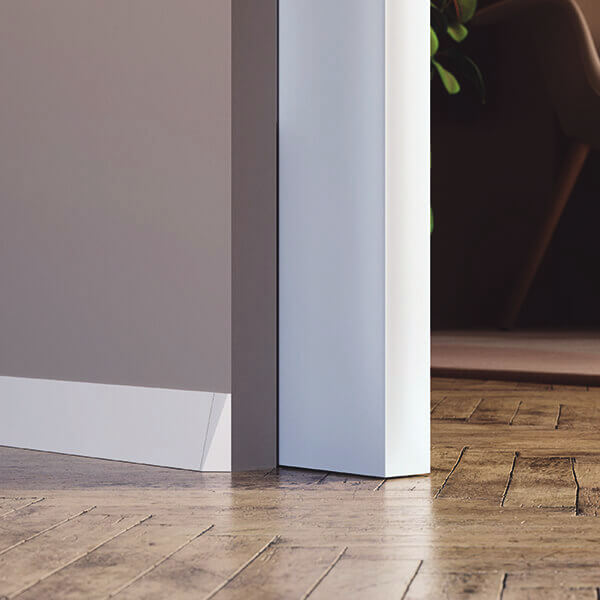 ECLISSE
Syntesis Slide
Combination with a flush sliding pocket door system
The gentle inclination of the terminal pieces defuse the abrupt interruption in the wall and accompanies the eye through the passage.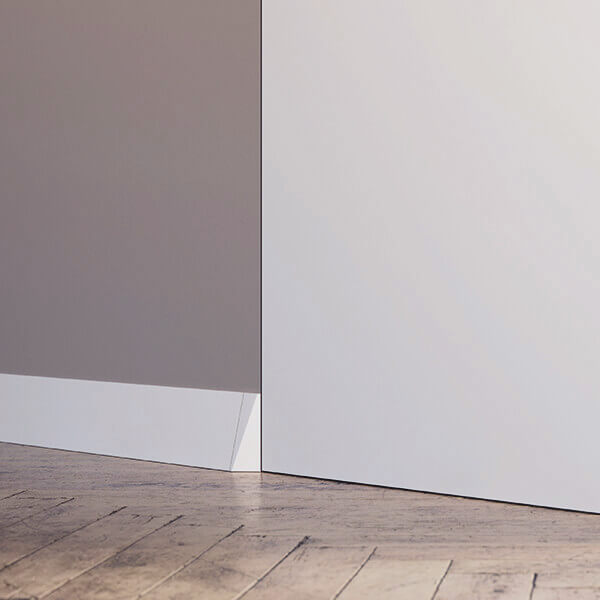 ECLISSE
Syntesis Swing
Combination with a flush hinged door
Like a perfect defect, the play of volumes and the three-dimensionality of the skirting board interrupt the perfect flatness of the wall.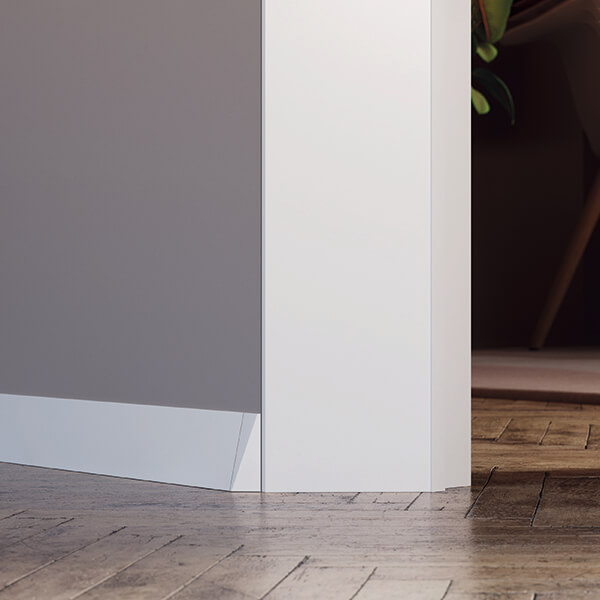 ECLISSE
40
Combination with a splayed hinged door
The sloping surfaces of the terminal elements recall and extend the distinctive splayed profiles of the ECLISSE 40 door frame.
Technical details
Materials and dimensions: ECLISSE Delta is made of aluminium and is available in two heights, 2" and 2-3/4". For both heights, the tapering starts from 1/2" at floor level down to 1/8".

Easy to install: the skirting board can be applied directly to the wall, without any special precautions. Simply use silicone for fixing, no other tools are required, nor are any holes drilled in the wall.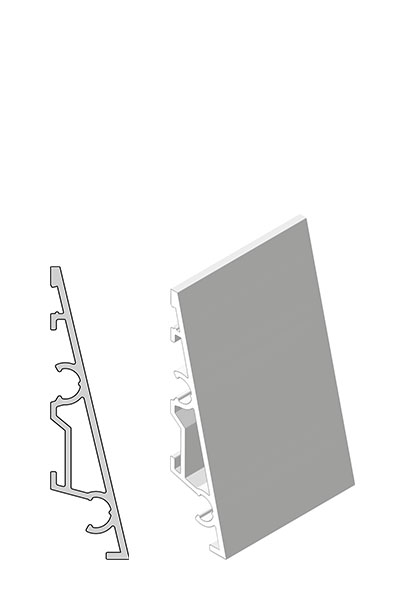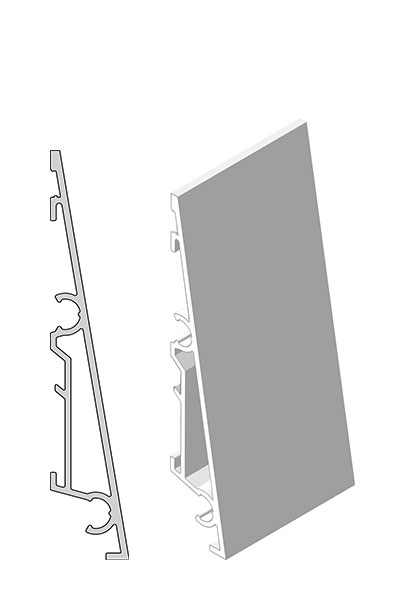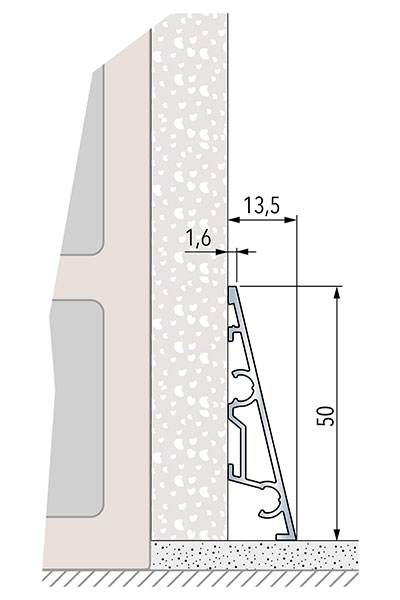 Installation on solid wall
(H = 2")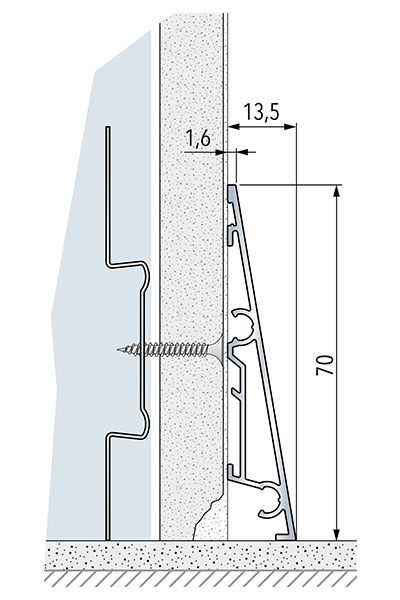 Installation on stud wall
(H = 2-3/4")
Terminal elements and joints
The terminal elements are placed at the end of the aluminium bars in proximity to a door hole. Depending on your taste, you can choose between a straight end profile (the skirting board will end with a perpendicular cut, with no slope) or a slanted end profile (the skirting board will also be slanted along the short side).
Joints are fittings used to join aluminium bars together (maximum bar length 78-3/4").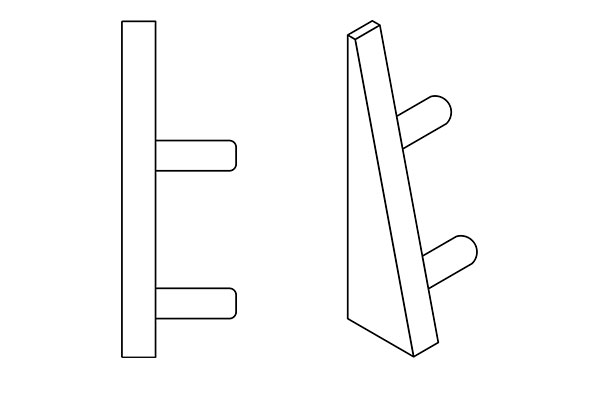 Straight terminal elements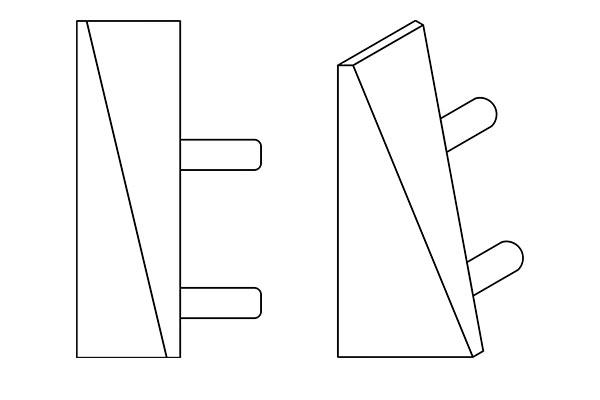 Tapered terminal elements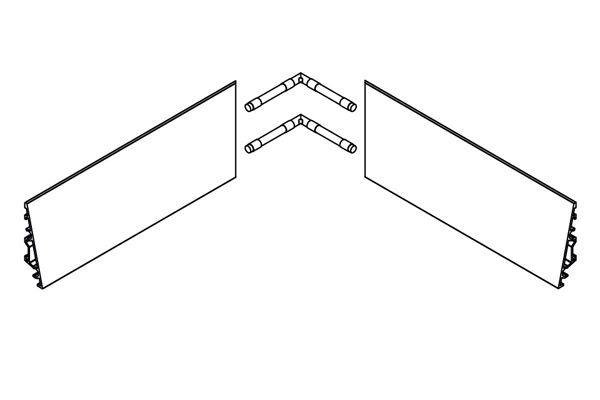 Kit for inner corners
Joints + Pre-cut pieces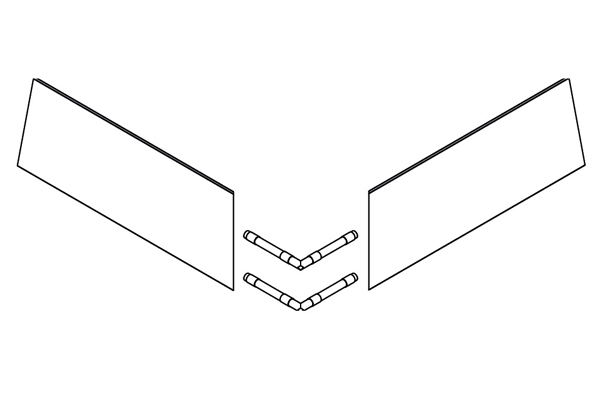 Kit for outer corners
Joints + Pre-cut pieces